A few weeks ago we received the following email from the Mum of one of our young members, Arabella.  When Arabella first got started, she faced a few challenges and took a little while to warm up to the idea of karate.  We knew about a little bit of it at the time, but did what we could to help her through it.  But we're really grateful to have parent's like Sam working on the home front to support what we do in the dojo.
Before we get to the message from Sam, we also wanted to share a special congratulations to Arabella who just last night moved up to her yellow striped belt in our Little Champions program.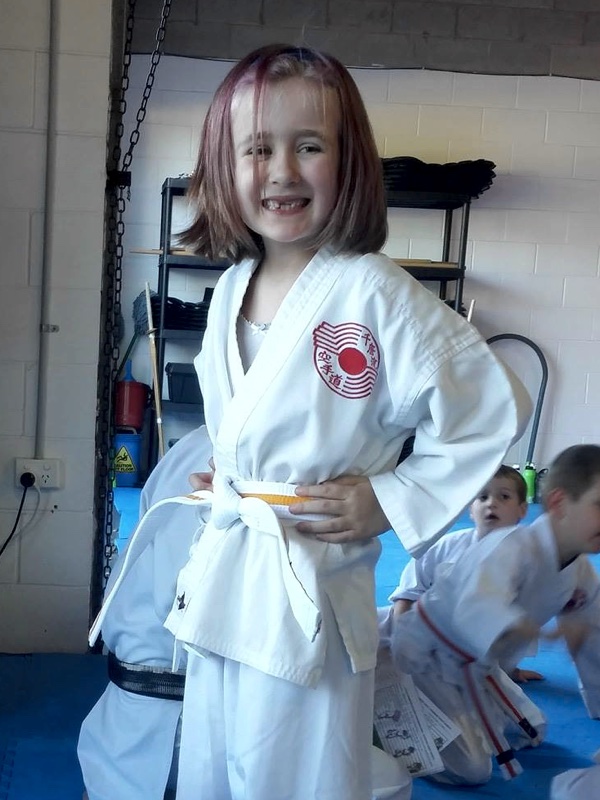 Here's the message from Sam (Arabella's Mum).  Published here with her permission.
Dear Martin and Sandra,

I've been wanting to write this letter to you both for a couple of weeks now.  I don't know how often you get feedback from parents, but I thought you might like to hear about our experience with your school so far.

I wanted to tell you how grateful my husband and I are that we found you.  Arabella loves going to Karate every week and looks forward to it.  She has become a happy and confident little girl, and you might be surprised to hear that I believe a significant part of that is because of the both of you.

Arabella has had a really difficult 12 months.  You wouldn't know it now, but last year and at the beginning of this year she was a very anxious little girl and was prone to extreme and aggressive tantrums. She has a sensory processing issue, which meant that wearing any kind of clothing, and sometimes physical contact, could be very overwhelming for her. Sometimes just putting on her socks for school would take an hour and she would end up in tears. Anything could set her off and she'd spend hours sobbing in her room until she passed out exhausted. She wasn't sleeping properly and was losing weight. We ended up seeing multiple specialists and doctors over the last 12 months and nothing seemed to be helping. So in January this year I decided to join her up at Karate to try and channel some of her excessive aggression and to teach her discipline over herself and her body. We came to our first trial on the hottest day of the year and she still seemed to love it! Unfortunately, the very next day I found out that I had kidney cancer and had to have the kidney removed to try and prevent the cancer spreading.

Our world kind of came to a halt for a few months and karate got forgotten. While this was all happening Arabella's behaviour continued to go down hill and eventually her paedeatrician wanted to prescribed her anti-anxiety medication.

Prozac for a 7 year old.

We were stunned and dismayed that it had come to this. We weighed up our options and became determined to find another way that didn't involve medication. It turned out to be the motivating force for me to become more present as a parent since my diagnosis. I had made a full recovery and was able to try and get back to real life. I was able to start focusing more on Arabella again.

We changed her diet and implemented new ways of managing her behaviour that we previously hadn't tried. One of the promises I made to myself, as part of this process, was to make Arabella commit to going to Karate once per week. I paid for the year in full so she (and I) had no excuses. It was a big gamble investing that much money at a time when we didn't have a lot to spare. I didn't even know if I'd ever be able to drag Arabella back to another class and I was worried I'd made a huge mistake.

Some weeks were really tough. The gi never "felt right" for her and she would have a meltdown trying to put it on. She would throw tantrums and tear off the gi, stomp on it and then throw it out of the car onto the ground. Sometimes we would get to Karate and have to head straight home because I physically couldn't get her out of the car. Debbie, very kindly told us that Arabella could just wear a t-shirt and tights to class until she was ready to try the gi again. She even gave us a second hand gi hoping the softer, worn-in material would be better. But Arabella became embarrassed and refused to do that too.

Some days I wished the ground would swallow me whole because I was so mortified by her behaviour just trying to get her out of the car. Still we persevered, even when it felt hopeless and a complete waste of time.

Yet week by week I could slowly see her improving and being able to control herself better. She was starting to smile again and was doing better at home and at school. She started wearing the gi and there was minimal fuss. Tantrums and meltdowns seldom happen at all now. Arabella looks forward to Karate every week and she always wants to get there early enough to have play time on the mat.

It really struck me last week about just how far she's come when I saw Sandra spending time with Arabella one on one. Arabella was listening, paying attention and laughing. She was having a ball. I was moved to tears watching Arabella interact with Sandra and having so much fun. You might not think that what you guys do is so significant to one person or to a whole family, but to us it's huge. You are both very fair and firm teachers. David too. Yet you all manage to keep it fun and interesting and I think that's why Arabella is responding so well.

You'll never know how grateful we are that you have all been such an integral part of us getting our happy daughter back. What you've managed to achieve with Arabella is outstanding. Your whole team is wonderful and you should be so proud of what you do. Thank you.

Kind regards

Sam
Of course we'd love to say a big thank you to Sam for sharing this message with us and in turn allowing us to share it with the world.  We always love to hear when what we do in the dojo has such a positive effect on people's lives.
I think on of the reasons Sam was happy for us to share this message, is because Arabella's story of transformation might also encourage others to make a transformation of their own.  You never know, maybe someone else who's in a similar situation may be able to relate to this and take the step of getting started at Sunshine Coast Karate.